COMMUNITY + COLLABORATION = DEVICEALLIANCE
DeviceAlliance's podcast 'Medtech Radio' is a brand new program addition in 2019 to our Professionals Academy.  As we continue to evolve and grow as an industry, it's more important than ever we're continuing to develop ourselves while learning from others experiences.  In this, we will ensure we're keeping up with the latest technology advances, marketplace trends and opportunities to learn from others experiences and grow in our own professional endeavors.
Medtech Radio podcast's focus is to highlight the achievements of local Orange County, CA medical device professionals, giving them a platform to share their knowledge and perspective while providing our listeners with an opportunity to learn from and get to know their local colleagues better.
---
Mike Mussallem: In the Heart of OC Medtech | Ep. 8
---
EPISODE DESCRIPTION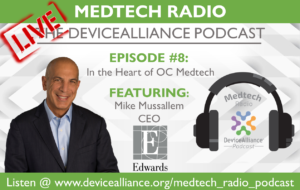 The blossoming life sciences and medical device community in Orange County has shown incredible growth over the past few years.  According to the 2019 California Life Science Association report, Orange County directly employed nearly 45,000 people in the life sciences industry, up 11% over the previous year.  Of those, more than 23,000 were employed by medical device, instrument and diagnostic companies, which led the state.  With Orange County being a microcosm for California as a whole, how do we continue to grow a collaborative atmosphere committed to supporting a productive medtech ecosystem?
In this episode of DeviceAlliance's Medtech Radio, we interview Chairman and CEO of Edwards Lifesciences, Michael Mussallem. Under his leadership, Edwards has established its position as a global leader in patient-focused medical innovations with the introduction of lifesaving and life-sustaining therapies such as transcatheter aortic valve replacement, rapid-deployment surgical heart valve replacement and non-invasive hemodynamic monitoring.
Join us as we speak with Mike about how Edwards plans to support Orange County's medical device community, and what we can do to drive collaboration, innovation, and career development for all device professionals in Southern California.
EPISODE RESOURCES
Leadership in Turbulent Times by Doris Kearns Goodwin 
2019 California Life Sciences Report
---
ARCHIVES
Joanne Ly: Mental Health – From Passion to Purpose | EP. 7
Jeff Blanton: Discover Your Calling | EP. 6
Omnica Corporation: Orbiting Medical Product Development | EP. 5
---
David Powell: Leadership Lessons | EP. 4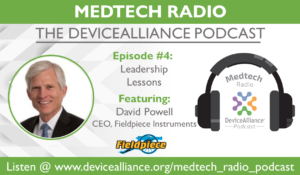 ---
Ryan Blackmore: People Strategies | EP. 3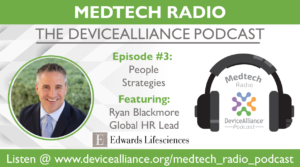 ---
Bridget Smith: Blockchain Revolution | EP. 2
---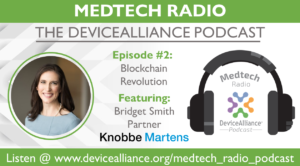 ---
Ben Bobo: The Flight of an Entrepreneur | EP. 1
---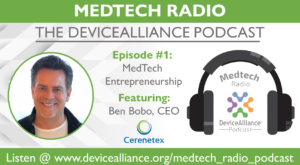 DeviceAlliance Podcast – Medtech Radio