Ram Rao: Vision with Purpose
LensGen is a clinical stage company headquartered in Irvine, California focused on restoring youthful vision to millions of cataract and presbyopia patients. With its innovative Juvene™ modular fluid optic intraocular lens the company aims to treat vision correction errors and provide spectacle independence to patients affected by cataracts and/or presbyopia. Their leader is a serial entrepreneur with 25 years of experience in the ophthalmic pharmaceutical and device industry. What are some of the key strategic insights to scaling a startup to a large scale medtech organization?
In this episode of DeviceAlliance's Medtech Radio, we speak with the CEO of Lensgen, Inc., Ramgopal Rao. Ram is the Inventor, Founder, and Chief Executive Officer of LensGen, Inc., a clinical-stage medical device company that is developing a novel intraocular lens for presbyopia. Currently, he is also Chairman of the Board of 2C Tech Corporation, Inc., an emerging medical device company that is developing a novel nanotechnology application for preservation of vision for patients with degenerative retinal diseases. Join us as we discuss his journey as a medtech founder as he shares his insights on understanding the long game, the role of clinical innovators & investors, the difference between money and smart money, and embracing your entrepreneurial passion.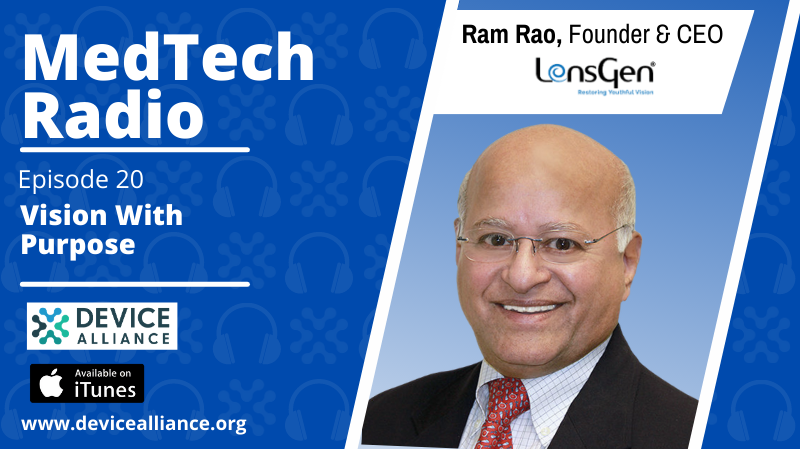 Follow the great work Ram and team are doing at LensGen.
OTHER MEDTECH RADIO EPISODES
All
Entrepreneurship/Startups
Leadership Spotlight
Marketing & Product Development
Professional Development
Women in MedTech
Young Professionals