Patrick Johnson: Turning Passion into Purpose
In recent years, research on light therapy has moved from the fringes of scientific discovery to something closer to the mainstream. Its commercial uses are now following the same path, as these devices, once available only in spas, gyms, or dermatologists' offices, become increasingly affordable for consumers. Meanwhile, the research is only getting more ecstatic. BioPhotas Inc. is providing unique devices founded on NASA-developed technology and backed by clinical studies, that conveniently treat a variety of skin, muscle and joint conditions. By the end of 2019, Celluma received the Innovative Product of the Year Award from The Aesthetics Journal in the United Kingdom. Celluma has already received another three Product of the Year awards from U.S.-based skin care journals, including Dermascope Magazine's award for Best Full Body LED device, for the company's innovative Celluma DELUX.
In this episode of DeviceAlliance's Medtech Radio, we speak with the President & Chief Executive Officer at Celluma by BioPhotas, Patrick Johnson. Join us as we discuss his journey as a medtech founder while sharing his insights on how his philanthropic passions drove his purpose, lessons in leadership, and his role of ringing to market safe, effective and affordable devices that unlock the clinical power of low-level light therapy.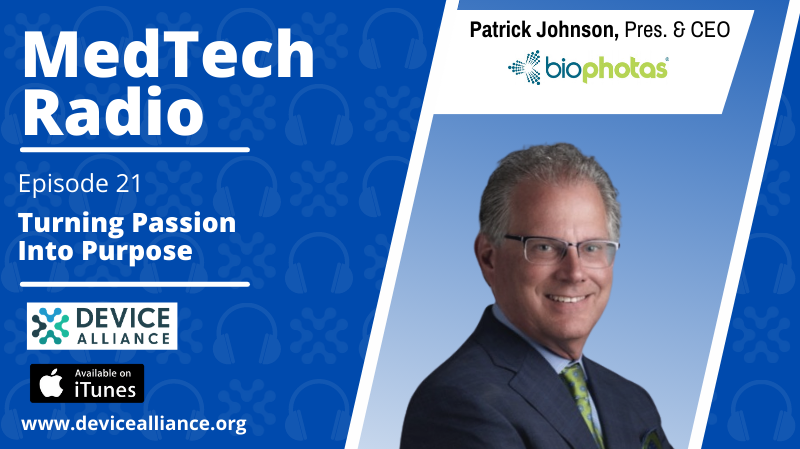 Follow the great work Patrick and team are doing at Celluma.
OTHER MEDTECH RADIO EPISODES
All
Entrepreneurship/Startups
Leadership Spotlight
Marketing & Product Development
Professional Development
Women in MedTech
Young Professionals