PRO-TECH: Designing Workflow
Accurate medical device labeling is a critical component to any quality control system. Often though, labeling is only considered at the end of the packaging process, which in itself, is often at the end of medical device design and production. Typically, product engineers develop a device, and only then start to think about how they are going to package and sterilize it. And, then after all that work is done, and typically only after that, do OEMs (original equipment manufacturers) and their contract packaging partners consider the labeling requirements. Yet, many downstream quality issues are the result of incorrect labeling and/or ill-conceived quality controls that do not provide the proper monitoring at each stage. These can result in drastic consequences from the US and/or EU regulatory bodies, and more importantly to the health of the patient. If the wrong components are incorrectly labeled or not labeled at all, the negative downstream effects can be considerable.
In this episode of DeviceAlliance's Medtech Radio, we speak with CEO of Pro-Tech Design and Manufacturing, Pam McMaster, and her son Aaron Swanson President of Pro-Tech Design & manufacturing. PRO-TECH is a family-owned, full-service FDA and ISO 13485 registered medical device contract manufacturer who specializes in medical device assembly and packaging, laboratory services and custom sewn products. Join us as we discuss what most medical device companies forget about, defining and optimizing workflow, the importance of your sterilization method to materials selection, how to navigate an audit during a pandemic, and what opportunities have arisen in this new Medtech environment.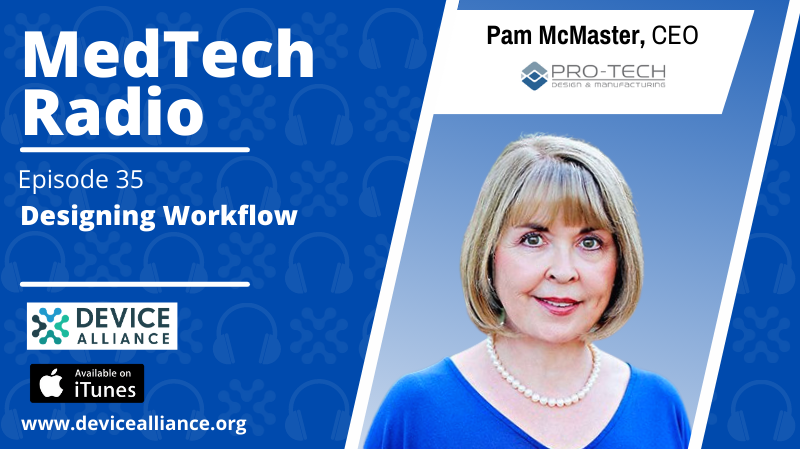 OTHER MEDTECH RADIO EPISODES
All
Entrepreneurship/Startups
Leadership Spotlight
Marketing & Product Development
Professional Development
Women in MedTech
Young Professionals