Annette Walker: Fighting Cancer in Orange County
The City of Hope will invest $1 billion in a new hospital and research center in Irvine that will enhance the way cancer care is delivered in the region. The large-scale facility will include a hospital and a research facility conducting clinical trials of new drugs and medical devices. The cancer incidence rate in Orange County is projected to increase by 18% over the next decade, as cancer risk increases with age and the county's population is aging faster than the U.S. average.
In this episode of DeviceAlliance's Medtech Radio, we speak with the President, City of Hope Orange County, Annette Walker. She served as president of strategy for Providence St. Joseph Health and chief executive of St. Joseph Health. In 2017 she was named one of the top 25 women in U.S. healthcare by Modern Healthcare magazine. Join us as we discuss her professional journey in health care, the challenges fighting cancer today, and how the medical device community can help in that fight.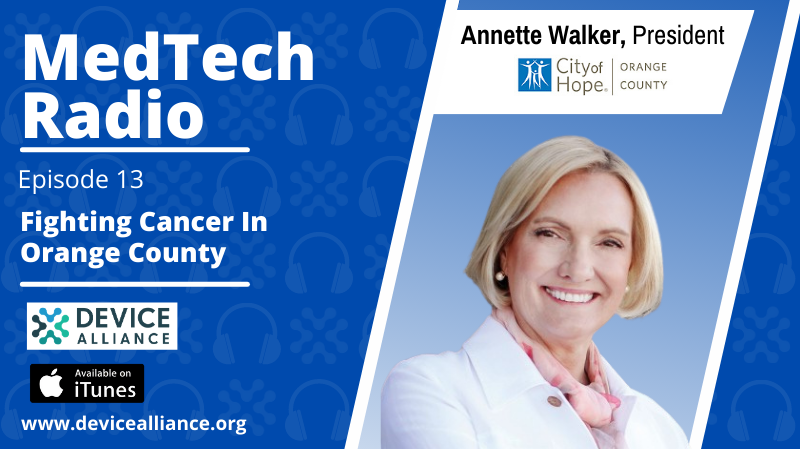 Follow the great work Annette and team are doing at City of Hope.
OTHER MEDTECH RADIO EPISODES
All
Entrepreneurship/Startups
Leadership Spotlight
Marketing & Product Development
Professional Development
Women in MedTech
Young Professionals