Dr. Keith McCrea: Fighting the Cytokine Storm
In June, the Department of Defense announced it was funding a clinical trial of the device because it showed encouraging preliminary results in critically ill COVID-19 patients at a military hospital in the U.S. and 14 other hospitals in Europe. ExThera Medical's Seraph 100 extracorporeal blood filter could go a long way in helping COVID-19 patients. In a release about DoD's funding, it was stated that it appears as if the Seraph 100 helps improve patient outcomes by providing additional time for supportive care while reducing the sources of inflammation and possibly preventing further damage by reducing SARS-CoV-2 virus/RNA in the bloodstream.
In this episode of DeviceAlliance's Medtech Radio, we speak with ExThera Vice President of Research and Development, and Chief Science Officer Dr. Keith McCrea. He also serves on the scientific advisory board of NESAC/BIO, an NIH-sponsored program at the University of Washington. Dr. McCrea holds 15+ years of demonstrated experience working in the medical device industry, with skills in materials science, polymer science, and surface modification. Join us as we discuss the biology of the "Cytokine Storm", and how Seraph 100 was used to treat sepsis and drug-resistant bloodstream infections in the prevention of septic shock but is now being used in the fight against COVID-19.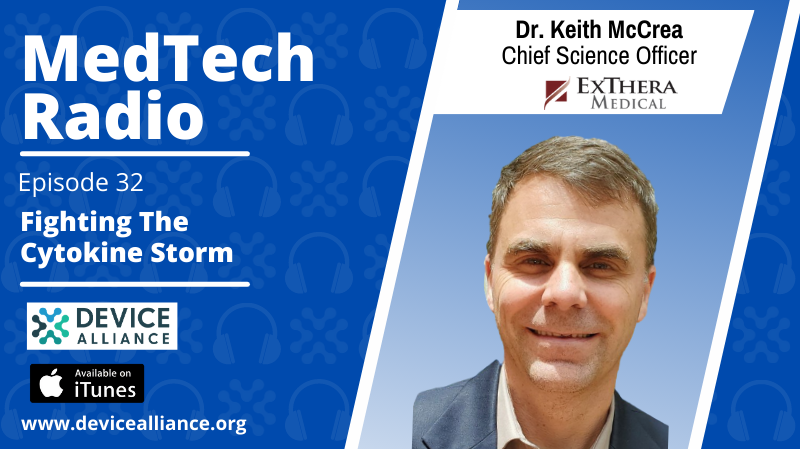 OTHER MEDTECH RADIO EPISODES
All
Entrepreneurship/Startups
Leadership Spotlight
Marketing & Product Development
Professional Development
Women in MedTech
Young Professionals