Richard Oberreitter: New Frontiers in Vascular Health
In October of 2019, Modulim, a recognized leader in optical imaging solutions for noninvasive tissue assessment, announced the appointment of Richard Oberreiter as its new CEO. Modulim is a pioneer in subsurface optical imaging powered by SFDI, an advanced imaging technique co-invented by founder and CTO David Cuccia, Ph.D. SFDI is a noninvasive tissue oxygen saturation technology that combines structured illumination with multiple wavelengths of light (visible and near-infrared) to allow for deeper and layer-specific assessment of tissue oxygenation and hemoglobin. Modulim's goal is to help clinicians reduce the number and severity of diabetic foot ulcers (DFUs).
In this episode of DeviceAlliance's Medtech Radio, we speak with the CEO of Modulim, Richard Oberreiter, J.D., M.B.A. Richard has for over 20 years successfully led new ventures and orchestrated turnarounds. Join us as we discuss the life lessons learned from his time as a US Navy Officer, leading a medtech team from the front, and never giving up the ship.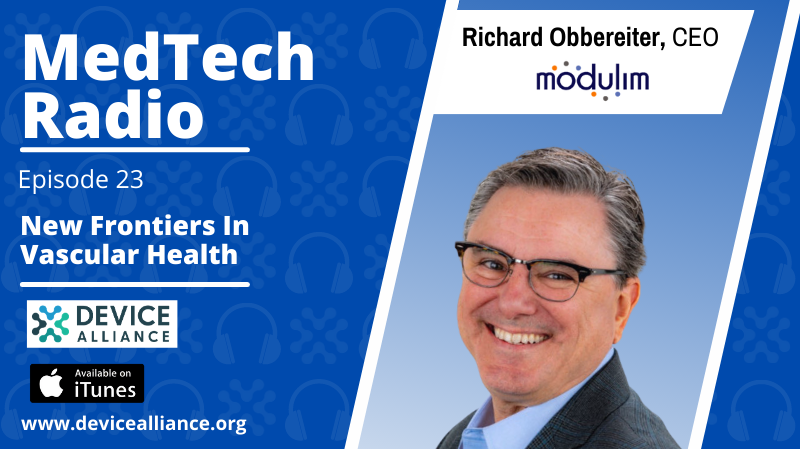 Follow the great work Richard and team are doing at Modulim.
OTHER MEDTECH RADIO EPISODES
All
Entrepreneurship/Startups
Leadership Spotlight
Marketing & Product Development
Professional Development
Women in MedTech
Young Professionals