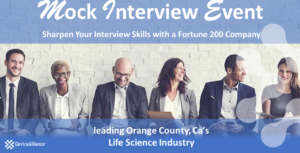 DeviceAlliance is excited to bring Orange County's life science community a unique small group event.
Interested in improving your interview skills?  Have a big career opportunity coming up you want to get prepared for?  Join us on June 19th onsite at one of Orange County's largest life science companies to go through an afternoon of 'Mock Interviews'.
Participants will have the opportunity to put their interview skills to work in a real life interview setting which includes two (2) 30 minute interviews with a total of four (4) members managers. Participants can expect to be at the facility for roughly three (3) hours.
At the conclusion of the event participants will receive:
A $200 gift card as a thank you for participating in the event
Formal feedback on their interview performance
Coaching for areas to focus on for future interviewing situations
Build a network of colleagues with similar interests
Interact with key senior management representatives of a Fortune 500 company
An opportunity to provide feedback to the management representatives doing the interviewing on how they performed
You may qualify for this opportunity, if you:
Have a 4 year college degree
Interest or experience in healthcare sales
Interested in learning and sharing in an effort to improve quality interviewing practices
Must be available in-person in Irvine, CA on June 19th from 12 noon to 4PM PT
RSVP:
This is a small group event with only 15 participant spots available.  Both DeviceAlliance members and non-members may RSVP for this event.  If you are interested in reserving your spot for this event please email info@devicealliance.org