Raymond Cohen: Persevering in OC Medtech (Replay)
In January of 2020, Axonics Modulation Technologies, Inc. announced FDA approval of an enhanced, second-generation Programmer for its r-SNM® System under a premarket approval application supplement. This Medtech company has developed and is commercializing novel implantable rechargeable Sacral Neuromodulation (SNM) devices for the treatment of bladder and bowel dysfunction. Axonics has received industry recognition for its technology, including one of FierceMedTech's Fierce 15 Companies in 2017, 2018 Winner of a Medtech Insight Award: Best Technological Innovation, and a 2019 Finalist for a Medical Design Excellence Award.
In this episode of DeviceAlliance's Medtech Radio, we speak with the CEO of Axonics, Raymond W. Cohen. Raymond is an accredited public company director with over 35 years of experience in leading medical-device companies and serving as a board member at a number of private and publicly traded life science companies. Join us as we discuss his personal journey through Medtech leadership as he shares his valuable insights into what it takes to successfully identify market opportunities, create a clinical and regulatory strategy, develop viable commercial products, and execute high-level strategic planning.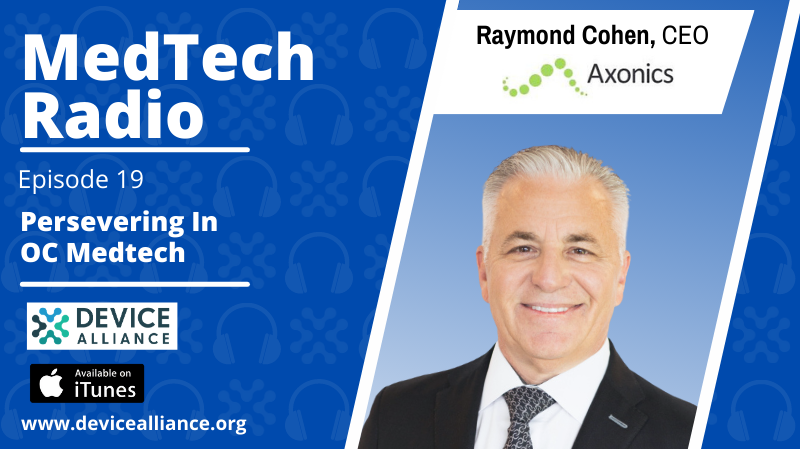 OTHER MEDTECH RADIO EPISODES
All
Entrepreneurship/Startups
Leadership Spotlight
Marketing & Product Development
Professional Development
Women in MedTech
Young Professionals